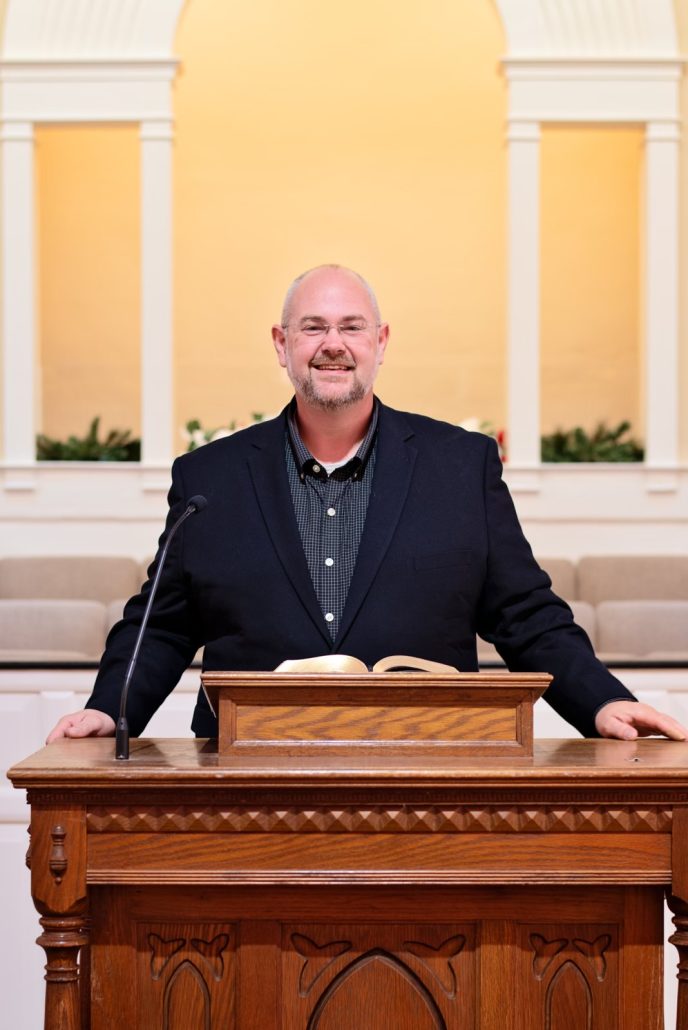 Dr. Bob Wilson was called to serve as Lead Pastor in 2023. He has previously served as a pastor in churches located in Florida, Tennessee, Nevada, and Michigan. Dr. Bob Wilson and his wife, Christa, have six children, with five still residing at home; his oldest daughter is married and lives in South Carolina. Dr. Wilson has earned a Doctor of Educational Ministry and a Master of Theological Studies from Midwestern Baptist Theological Seminary in Kansas City, Missori. Additionally, he holds a Bachelor of Arts in Biblical and Theological Studies from Boyce College of The Southern Baptist Theological Seminary in Louisville, Kentucky. Bob enjoys fishing, tinkering with vehicles, and spending time outdoors with his family.
Luke 11:28 is a verse that Pastor Bob loves dearly, "Blessed are those who hear the Word of God and keep it!" His favorite worship song is "In Christ Alone."
David has served as our Associate Pastor, Student Minister, and Minister to Senior Adults since May of 2000. Before coming to FBCM, he served at Calvary Baptist in New Orleans from 1981-1983, and then Highland Baptist in Meridian, MS from 1983-2000.  David and his wife, Kim, have 2 children, Ben (wife-Lacey) and Rebekah (husband-Jacob).  He has three grandchildren-Luke, Graham, and Adalyn Grace.  David has a Bachelor's Degree in History from La. Tech University and a Master of Divinity Degree from New Orleans Baptist Seminary. David enjoys camping, fishing, and playing golf.  Among his favorite songs are "One Pure and Holy Passion" and "No longer Slaves."
David's life verse is found in Matthew 6:33, "But seek first His kingdom and His righteousness, and all these things will be given to you as well."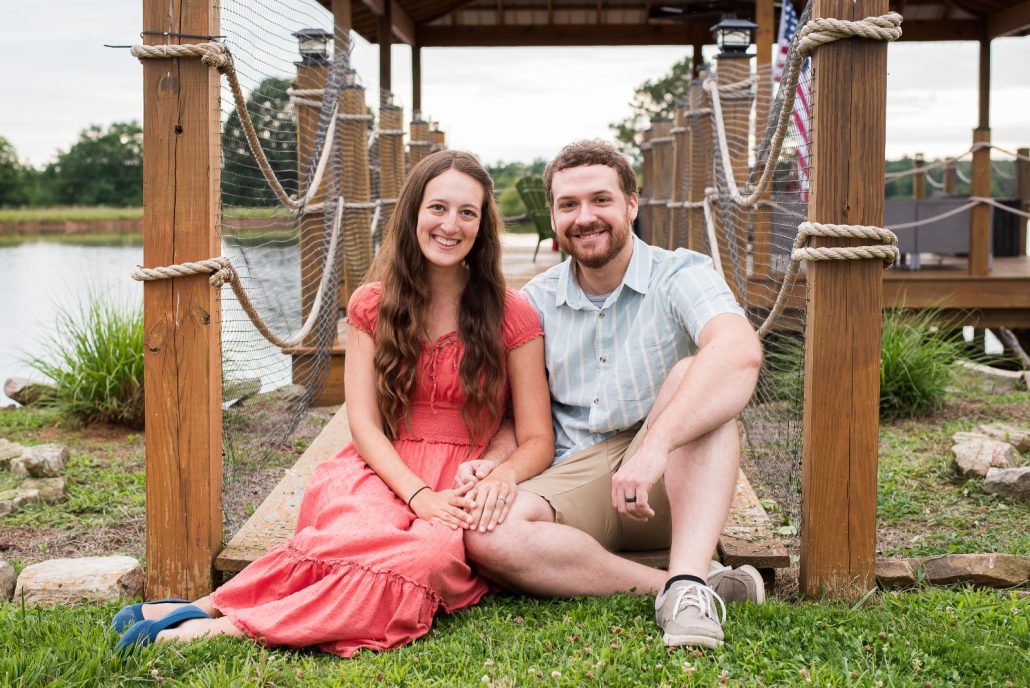 Matthew serves as the Music Ministry Director and Ministry Assistant at FBCM, primarily focusing in the area of leading the worship ministry. He will also be serving with our student and young adult ministries. Matthew and his wife, Hannah, are expecting a baby girl in just a few short weeks. Matthew grew up in our church, attending from 1998-2016, before moving to Louisville, KY, where he earned a Bachelor's Degree from Boyce College in Worship and Pastoral Studies. He is currently in his final two semesters of a Master of Divinity Degree from The Southern Baptist Theological Seminary and will graduate this coming May. Matthew enjoys playing music, watching movies, and spending time with friends and family. Two of his favorite songs are "Be Thou My Vision" and "Thank You Jesus for the Blood." His favorite passage is from Lamentations 3:22-23, "The steadfast love of the Lord never ceases; his mercies never come to an end; they are new every morning; great is your faithfulness."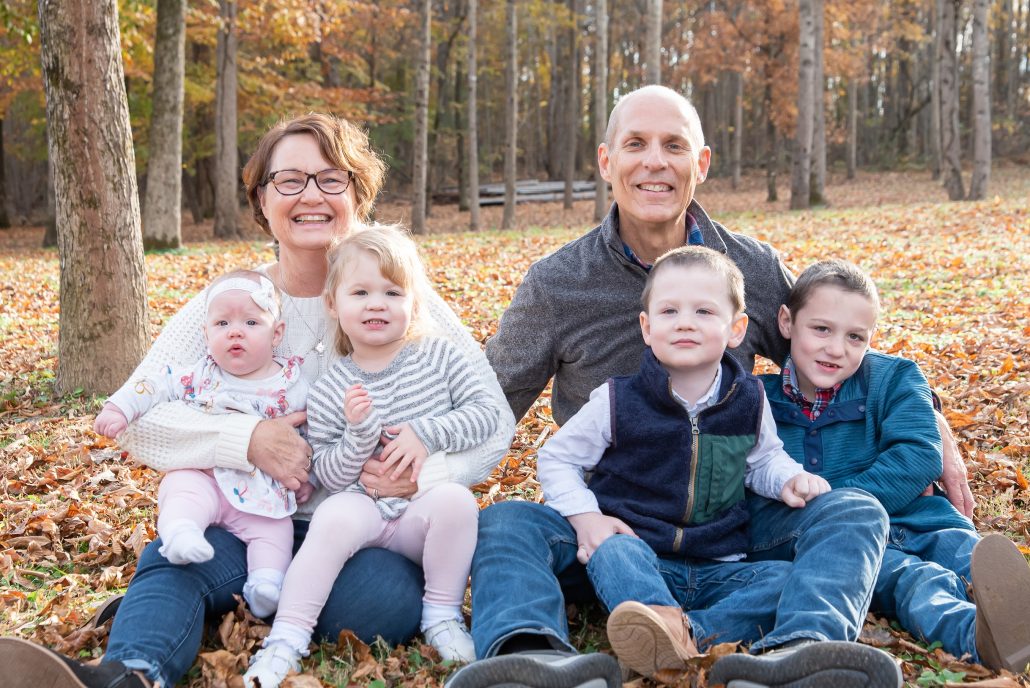 Kim and her husband, David Hutto (our Associate Pastor), have been dear members of the FBCM Staff Family over 20 years. They have served together at FBCM since 2000. Kim is currently serving as our WEE Care Director. She has a Bachelor's Degree in Early Childhood Education from La. Tech University and has previously served at Highland Baptist Church in Meridian, Mississippi. Kim enjoys spending lots of time with her sweet grandchildren, traveling, camping, and reading. 
Her favorite verse is Romans 8:28, "We know that all things work together for good to those who love God and are called according to His purpose."
Student Ministry Directors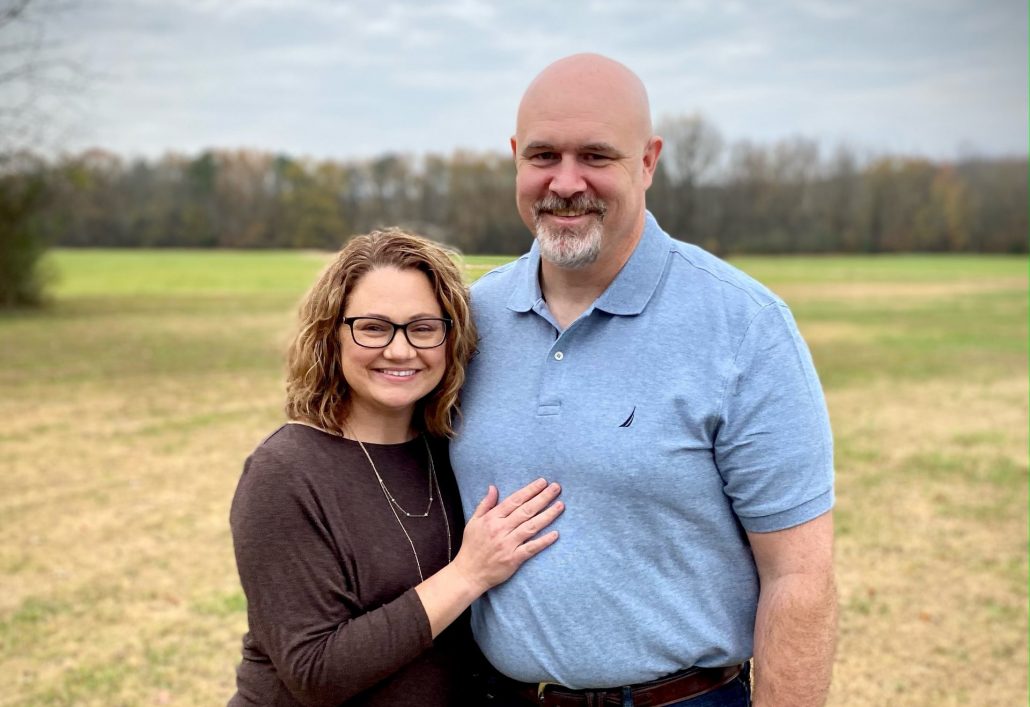 Evan and Dena joined FBCM in 2010 and have been leading the youth since January of 2022.  In addition to serving with the youth, Evan and Dena have been active in FBCM's AWANA ministry, Bus Ministry, and various other ministries. Dena has a passion for teaching children and youth and is a homeschooling mom. Evan also serves as a deacon at FBCM.
Evan and Dena have three kids (Abigail, Grant, and Luke), as well as three bonus kids and a son-in-law.
Danielle and her family joined FBCM in 2016. She has been serving as the Kids Director since March 2022. Prior to starting this position, Danielle has served and continues to serve faithfully in our AWANA ministry and in various other ministries at FBCM. Her husband, Fin, is a deacon at FBCM, and it is a joy to have their family as part of the FBCM Family!
Danielle and her husband have 3 children: Lila Kate, Addilyn, and Findley. She has a Bachelor's Degree in Early Childhood Education, and if you spend any time with Danielle, you will see that her love and passion for teaching children are evident. She adores her animals and living on a farm! She enjoys morning walks, homeschooling her kiddos, and date nights with her husband! She loves the snow but also looks forward to beach vacations with her family!
Her favorite Bible verse is found in Ephesians 2:5, "And walk in love, as Christ loved us and gave Himself up for us, a fragrant offering and sacrifice to God."
Becca and her family joined FBCM back in 2008. Becca joined the FBCM team as Nursery Director in 2019. She loves working with little kids, serves at our WEE Care ministry, and also serves as our AWANA commander! Her husband has served as a deacon and serves faithfully in different committees.
Becca and her husband, Phillip, have 3 boys.
Her favorite Bible verse Romans 8:28. "And we know that in all things God works for the good of those who love him, who have been called according to his purpose."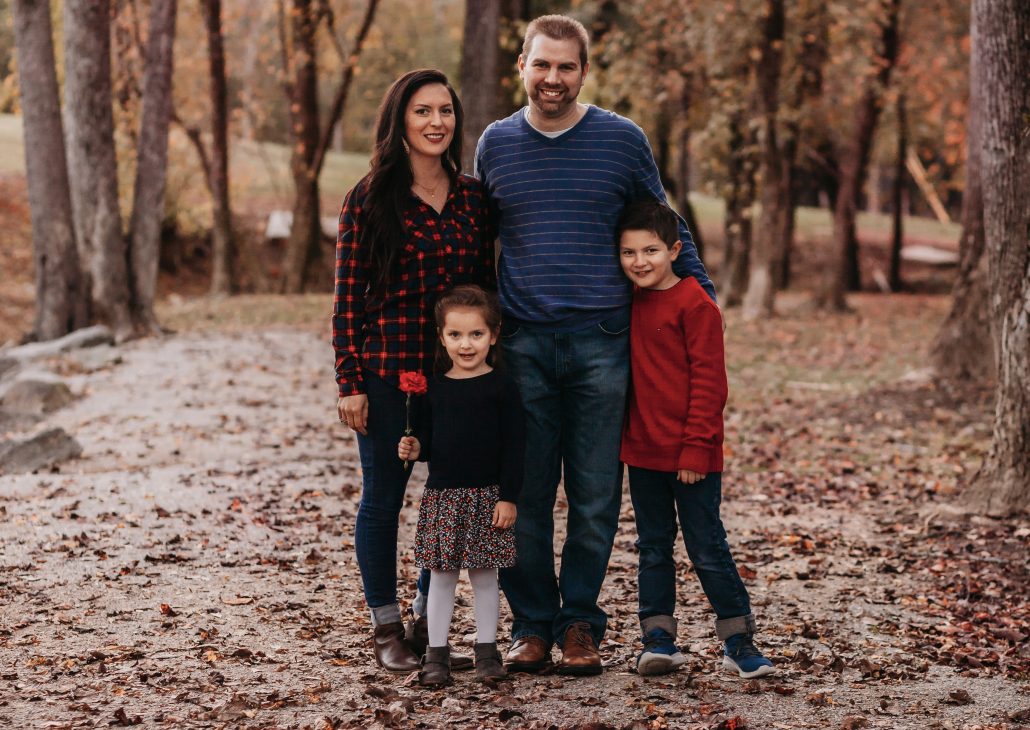 Talita and her family joined FBCM in 2019. She joined our staff in April 2022.
Talita and her husband, Matt, have 2 children. They all serve in different ministries and love being part of the FBCM Family. Talita enjoys translating and hearing people talk in different languages! She loves singing and enjoys listening to Christian music.
Her favorite verse is Philippians 1:6, "Being confident of this, that He who began a good work in you will carry it on to completion until the day of Christ Jesus."
Marti Robison and Hosting Team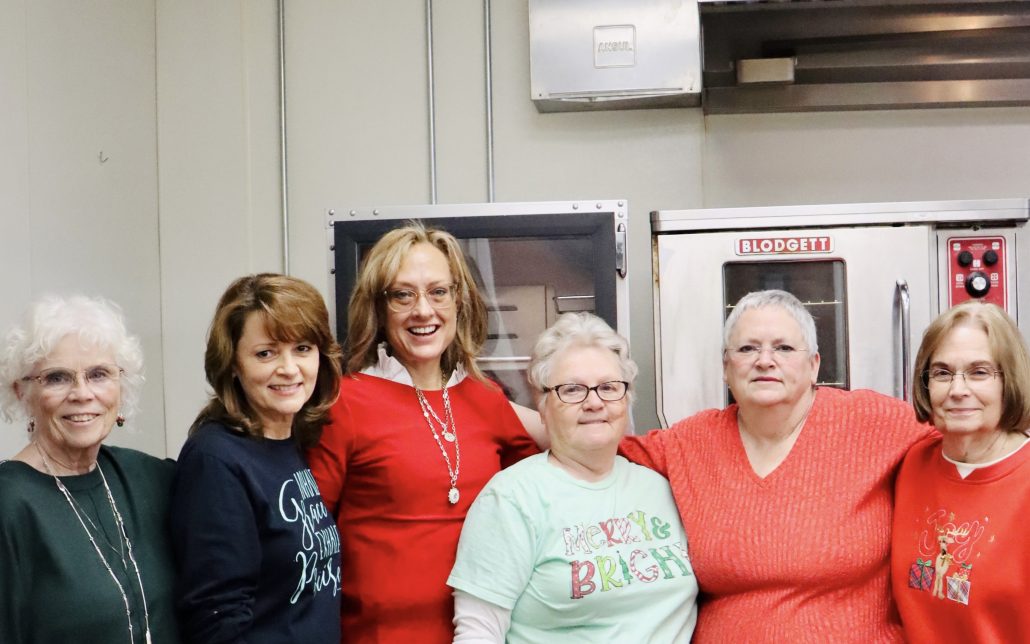 Marti and her team (Darla Alling, Wendy Jackson, Virginia Walker, Linda Lee, and Kay Hurst) serve our church every week by hosting Wednesday Night Supper and serving at different events through out the year.
FBCM loves our hosting team!
Our Financial Administrator handles all the questions about donations you have made to FBCM. If you have any questions regarding donation letters, past donations, receipts, and reimbursement, please contact our financial office by calling the office at (256)828-1607 or by emailing fbcm.financial@gmail.com