Katie's Closet serves the North Alabama community by providing supplies to families who just got a foster child and need help with immediate supplies.
Any family who is fostering a child of any age can contact us for supplies such as clothing, shoes, diapers, essential baby items, and more. We want to serve the Foster Family community in our area.
Katie's Closet is a North Alabama Foster Closet, providing clothing and needed supplies to foster parents and foster children. We aim to help foster families in the Meridianville, New Market, Hazel Green, North Huntsville area. Foster Families in the greater Huntsville area can contact us.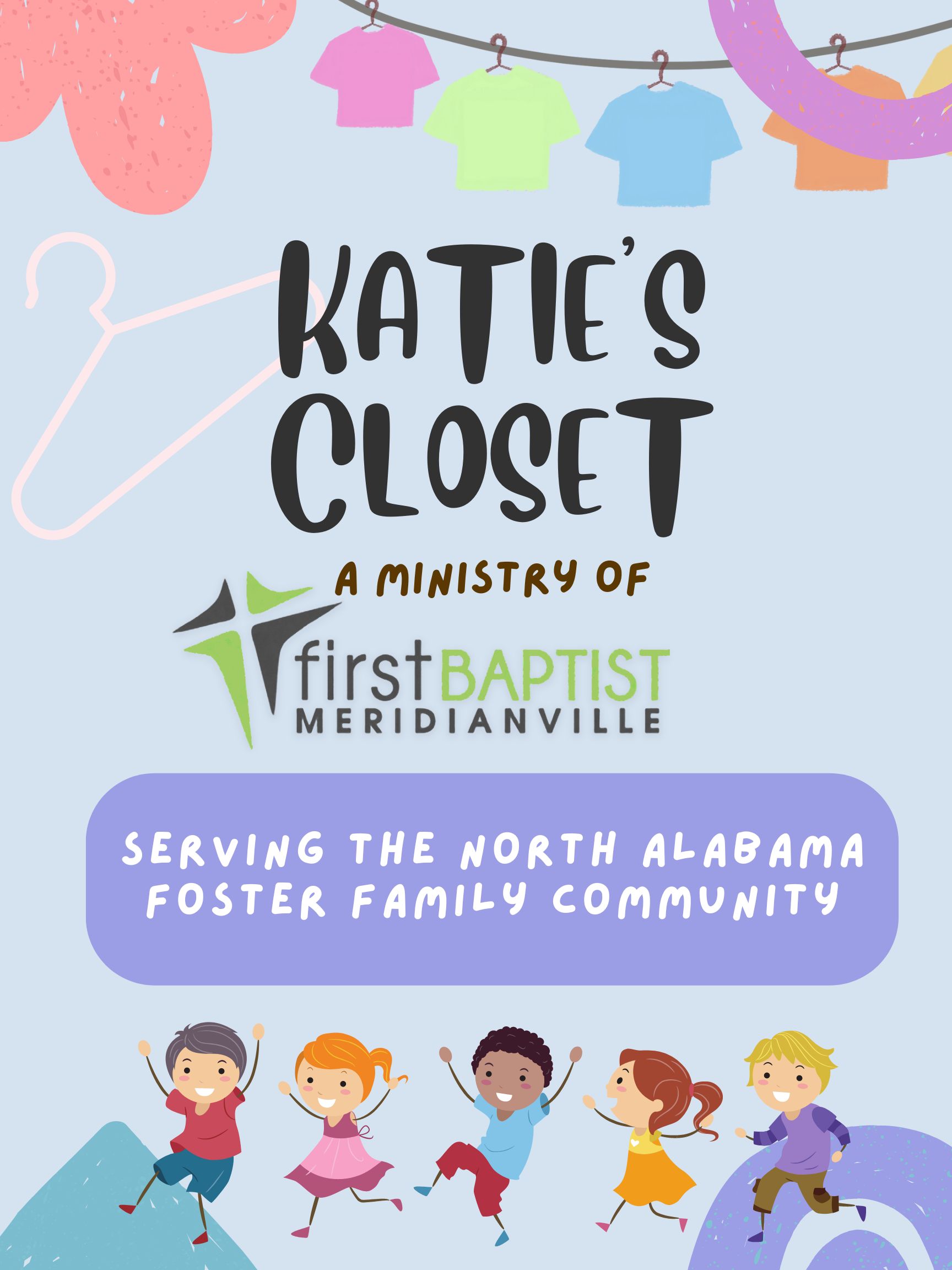 First Baptist Church Meridianville
175 Monroe Rd.
Meridianville, AL 35759

Call or Text
Phone: (256) 828-1607
Text Only: (256) 502-6425
What is Katie's Closet?
Katie's Closet is a community foster closet to serve the North Alabama foster families.
How did Katie's Closet start?
Katie's Closet started in loving memory of Katie Trent who loved the foster care community and worked tirelessly fostering children and serving her community.
What kind of items do you have?
We have items such as clothing, pijamas, shoes, basic hygiene items, essential baby items such as pacifiers, diapers, onesies, some baby gear such as car seats, play pens, toys (some of the large baby items may be gently used).
Do you have items for all ages?
Yes. We aim to have at least some items for ages 0-17, boys and girls.
How do I contact someone outside of business hours?
If you need to get a hold of someone after hours, please contact Joyce Trent at (256) 797-3957.
Where are you located?
We are a ministry of First Baptsit Church Meridianville. Our address is 175 Monroe Rd. Meridianville, AL 35759
How can I get involved?
We are glad you asked! We accept item donations at First Baptist Church Meridianville. We only accept new items with tags.
You can order something from our Amazon wishlist. Click HERE. All items will be sent directly to First Baptist Church Meridianville.
You can also donate online. Click HERE to donate. Choose "Katie's Closet" from the drop down "Fund" menu.
In loving memory of Katie Trent